APACHE TALISMAN FCS - discontinued : 85€
Highly technical climbing shoes - Upper 100% Microfiber - Made in France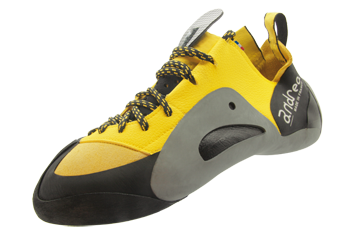 Highly technical shoe, developed from the Andrea Boldrini know-how, it offers great versatility of use and users with a perfect homogenous fit, thanks to its new structure combined with the control of the raw materials used.
The new rubber structures and tensions make you achieve outstanding precision and support and provide free movement of the metatarsus. The upper has been designed to allow both tight or loose fits without pressure point thanks to the seams or material overlapping.
This model benefits from the AB asymmetric lace up system that has proved its efficiency for years. Model used in different types of climbing (difficult climbing, multi pitch routes, cracks with the FCS version and overhanging rock on micro ledges).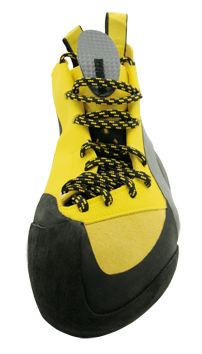 The "Full Contact Sole" innovation provides new sensations, a new concept that will revolutionize the world of climbing.
Powerful heel tension, slightly stronger than the rest of the range due to a new manufacturing technique.
Lateral and heel rubbers designed with a new formula including aluminium particles thus improving support when stretching, lightness and consequently reduced thickness.
Sole available in traditional internal edge or with F.C.S. system that offers a lot more technical capacities and extra life due to a wider coverage surface; rubber: Formula Rubber Tractor (4.5 mm).