New version of the APACHE LIGHT Andrea Boldrini Climbing Shoes - Made in France
Technical and suitable for a variety of climbing styles - Upper 100% Microfiber - Made in France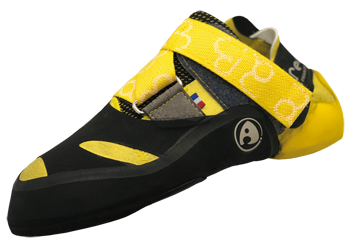 Top of the range model derived from the Apache 4 version, improved for a more versatile and less aggressive use.

New heel for 2019 with sticky yellow rubber for amazing heel hooking and a wider rand rubber on the back to adjust to any type of heels (low heels, narrow, wide, etc.. ). A better fit and performance.

Comfort is faithful to the reputation of the Andrea Boldrini range.


Upper microfiber that enhances comfort and prevents the shoes from stretching after regular use.

Full rand rubber with a piece remounting to the upper thus offering excellent support and favouring toe-hooking.
The X-tension rubber maximizes edging on thin foot holds. Relaxed heel cup and good foot rigity.


Sole with traditional internal edge; rubber: Formula Rubber Tractor (4.5 mm) which resists to abrasion.



Customization (right and left foot with different sizes) and/or rubber choice Vibram increase the delivery delays from 15 days to 1 month.

To choose different sizes, pick the option "SM", then click there
to choose sizes.