TIGER _ Discontinued : 69€
---
Technical climbing shoes - Upper 100% Microfiber - Made in France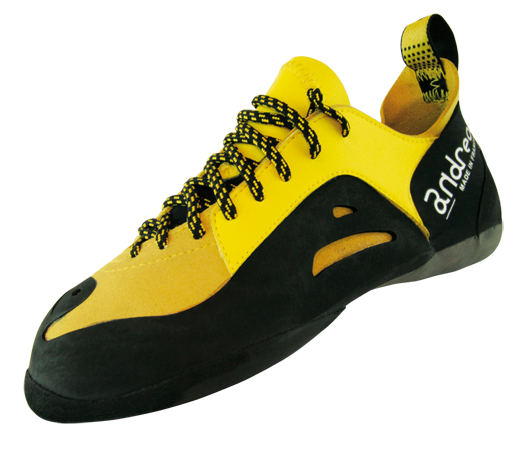 This version reuse the volume of the Talisman in order to give a better comfort and close fitting. The modifications were made to improve the use of the Tiger towards a practice of
technical routes and long routes.
The new sole increases the support of the foot articulation when holding the weight on the toes for a long time which relieves the calves but it keeps a very good sensitivity.

The new Tiger has also the innovative system « FCS » (Full Contact Sole) a no edge construction all around the front which provides new sensations, a concept that already revolutionize the practice of climbing.



The asymmetrical lace up allows a more precise fit and push the toes on the internal edge for a better accuracy.

Upper microfiber that enhances comfort and prevents the shoes from stretching after regular use.

The tongue, made of a mix of elasthanne/foam/Licra, is increasing the support as a slipper.
Full rand with slingshot to increase support, relaxed heel cup to avoid discomfort.

The rand rubber on the front of the shoes is higher to protect the feet when there are cracks.
Rubber: Formula Tractor (4.5 mm) for performance.